reviews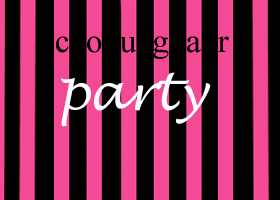 cougar party on the prowl by chris dart, from the brock press
Cougar Party should be charged with false advertising.
Despite the name, the band does not consist of middle-aged divorcées on the hunt for fresh young man meat. Instead, it's made up of three 20-something women who make hard, thrashy punk-influenced hardcore. However, the band's name didn't just materialize out of the ether.
"[The name] comes from [drummer] Shannon [Goodwin]'s brother Adam, who she was in Mach Tiver with," said Party guitarist Amanda Caskie. "When they would go on tour, she would have little make- out sessions with younger boys who would go to their show and he would call her a cougar. He was joking around, because we're an all girl band, that we'd be a cougar party. Then he was like, 'Hey, you should name your band that' ... we thought it was comical and kind of ironic, so we went with it."
As an all-female outfit in the male dominated Toronto punk-and-hardcore scene, the Cougars have had a hard fight for respect. Even as the pop charts are becoming dominated by females, the underground has remained a boys' club.
"There's the whole sort of Hilary Duff, Avril Lavigne ... kind of stuff that's going on, so I think in general, people are saying, 'Oh, girls in rock, that's great,' but when it comes to the underground ... it's still a little less frequent," said Caskie. "I think that the style of music we play, and the kinds of shows that we play, it's still a little less girl oriented. A lot of the shows we play are hardcore, very screamy, very loud shows, and we've been together for about two years, and we have yet to see another all girl band that plays that type of music. It's a little difficult ... all the other female representation."
In the two years since the band's formation, they have already undergone one major line-up change, with their second guitarist quitting earlier this year and the band becoming a three-piece.
"It was somewhat of a natural progression," said Caskie. "We've only played two shows as a three piece. And when we played our first show as a three piece, it went over really well ... people dug it. For me, being the other guitar player, some of the parts that I've been playing I had to alter a little bit, but I'm diggin' it. I really like it."
One of the reasons for Cougar Party's growing buzz is their willingness to play shows with bands that sound nothing like them. Their upcoming St. Catharines gig will see them sharing the stage with Toronto-based electro-punk fusionists Scandalnavia.
"We have some songs that are a little more punky, we have some songs that are a little more hardcore sounding, we have a mellow song ... that's really, really cool and really, really emotional, so we do tend to have something for everyone," said Caskie. "We play lots of queer-positive stuff and we always get lots of positive feedback, because I just find that people are really supportive in that community, and when we play all-guy hardcore shows people tend to be really supportive as well. The people that we play with just tend to be really cool, really down to Earth people."
Believe it or not, the women of Cougar Party are excited to make their first visit as a band to the Garden City. The band's four track demo, released last year, made number one on one of CFBU's specialty charts. Their full-length debut, released late last month, is already number 12 on the station's top 30.
"We thought that was really cool," said Caskie. "We were kind of surprised and really stoked about that. I personally don't know how that happened."
Cougar Party play Mar. 10 at Red Square.